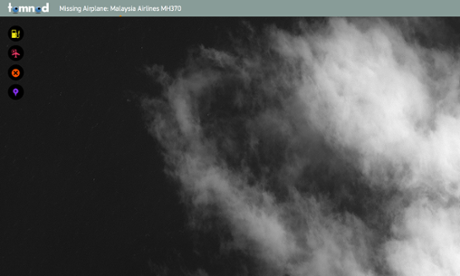 KUALA LUMPUR. KAZINFORM - Thirteen countries, 57 ships and 48 aircraft are currently looking for Malaysian Airlines flight MH370, which has been missing since last Friday.
But since a few hours after the plane and its 239 passengers disappeared, the search has been joined by some 2.3 million ordinary internet users, who are using the Tomnod website to scan more than 24,000 sq km of satellite imagery to help locate the missing aircraft, The Guardian informs.

Tomnod is run by commercial satellite company DigitalGlobe, which soon after the plane's disappearance repositioned two of its five satellites over its last known location in the Gulf of Thailand, and have since moved them as the search headed west.

Tomnod users are provided with a randomly chosen map from the search area and are told to drop a pin if they see signs of aeroplane wreckage, life rafts, oil slicks or anything that looks "suspicious".
An algorithm then finds where there is overlap in tags from people who tagged the same location, and the most notable areas are shared with authorities. A Tomnod spokesperson said that as of Thursday every pixel had been looked at by human eyes at least 30 times.

Despite the huge online search party, the Tomnod hunt has so far have proved inconclusive. But that - and the fact crowdsourcing was disastrously discredited during the hunt for the Boston bombers and the search for adventurer Steve Fossett's single-engine plane - hasn't stopped millions of people searching the maps and tagging over 745,000 images they believe may be signs of the missing Malaysian Airlines plane.

Numerous Facebook groups have been set up with members from around the world posting and discussing screenshots of satellite imagery around the clock.